TriggerCharts Commander Series – Overview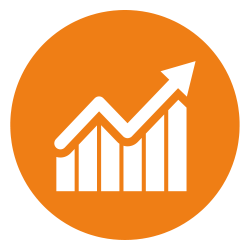 The TriggerCharts – Commander Series indicators are a structured and logical approach to analyzing and interpreting the markets that has its foundation in the principles of Auction Market Theory and Market Profile®, developed by legendary floor trader, Peter Steidlmayer.
The four indicators which comprise the Commander Series are the Altimeter, AutoPilot, Radar and Simulator (free limited use version of AutoPilot). All products are exclusively featured on the Tradestation TradingAPP Store for a subscription or trial.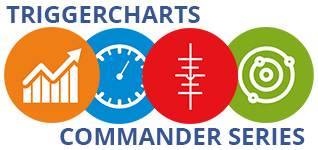 Although Auction Market Theory and Market Profile® tend to be very complex in their typical presentation—and take years to understand and master—TriggerCharts has distilled and simplified these fundamentals into precision trading tools that reveal what you need to know about the actions of markets.
Markets trade in one of two mutually exclusive phases: horizontal movement through time or vertical movement through price—but never both at the same time, in the same time frame. Accurately identifying the two phases of the market is a valuable skill and once obtained, makes the practice of trading simple because it simplifies and provides clarity. Therefore, once you know which of the two states are being exhibited, then you know how to adapt how you are trading within the current market conditions.

The TriggerCharts Commander Series Indicators were designed to illuminate these two states in selectable time frames by pinpointing where the major flows of capital are and how they are affecting price movement.
These indicators are optimized for trading and analyzing stocks, Futures and Forex instruments.
TriggerCharts Commander Series – Applications
NEW – Stay updated with realtime alerts on multiple time-frames.
Clearly read, interpret, and understand where the concentration of crowd activity is located to make incisive interpretations and timely decisions that are suitable to your trading style.
Read, understand, and make decisions based on the two phases of market activity—Horizontal and Vertical movement.


Make better decisions by properly interpreting volume-at-price, volatility, pivot levels, momentum characteristics, and other key market attributes and characteristics in all time frames.
Avoid neutral, low-odds areas of the market—saving time, money, energy and frustration on "go-nowhere" situations.
Improve market timing and risk/reward by understanding where the crowd is lending demand-support in a declining market or supply-capping a rising market.
Analyze and trade the market on your terms according to your tactics, strategies, and methods—which can be supplemented by the TriggerCharts Commander Series  Indicators.
Determine the direction of major flows of capital.
Determine where the "thickest" demand and supply points are.
Determine appropriate buy and sell levels in bracketed or rotating markets.
Accurately assess the risk/reward characteristics of an opportunity for proper risk management.
Help you evaluate what's next in terms of high probability moves in the market or a security.
Precisely determine entries, potential targets, and precise stops for market opportunities.
Gain better insight into the relative speed of directional price movements.  Know where the market either needs to pause or looks to reverse.
Indicator Education and Multimedia