Spotting Simple Setup Patterns – And Profiting From Them
---
Some Trade For Play – We Trade For Pay
There are some patterns that are well know to many investors. For example, there is the head and shoulders, trend breaks, island reversals and many others. Sometimes these work out well but sometimes they don't.
The traditional patterns are not easily calculated and many are not revealed until the pattern plays out.
However, there is a way to rather easily find a support and reversal pattern with two specific indicators from TriggerCharts. For short, we named this the Banger Pattern.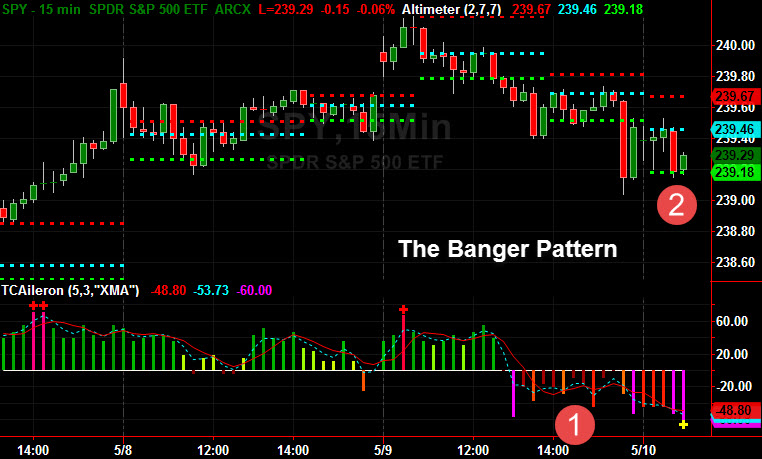 Using the Aileron360 and Altimeter indicators to find an overbought level with support yields tradable opportunities to enter a long position. Looking at the chart above, the SPY is shown on a 15 minute time-frame. The Aileron360 (marked #1) calculates that there is an oversold condition which is gaining momentum. The final indication of the potential for a reversal is then displayed with a magenta bar with a yellow cross below the indicator..
The Altimeter (marked #2) presents a good level of support going back 6 bars that has held nicely. Notice the green horizontal support line. Once the price of SPY bounced and was confirmed by the oversold condition of the Aileron360 – BANGER!
Fast forward a couple of bars and the chart below shows how well the Banger Pattern was able to profit on the long entry setup.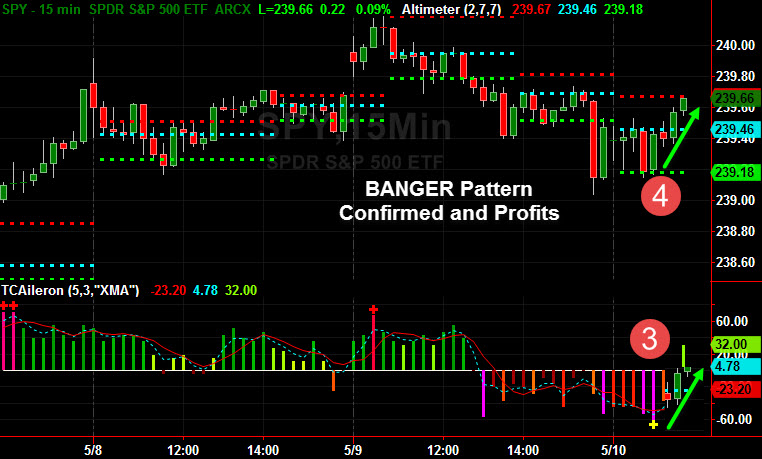 Right off of the bottom of the Aileron360 (marked #3) there was a squeeze higher as the oversold condition was resolved. The support line (marked #4) held and now the price is hitting on resistance. From here, if there is a failure to exceed the next level, profits should be taken and wait for the next Banger signal.
Of course, the same situation regarding overbought and resistance for this pattern also holds potential profits. When there is an overbought level indicated and the price bounces below resistance, a short can be entered with stops above the prior resistance. (see#5 and #6 on the chart below.)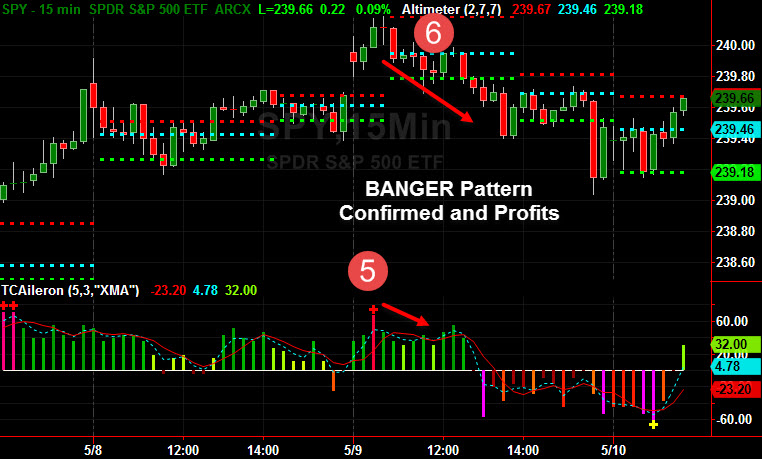 We hope you will find this to be a useful and profitable pattern to setup trades!