Many investors look for good setups that can instill a high level of confidence. Yet there are few trend indicators that stand on their own to provide entry and exit signals.
The ability to pinpoint areas that are of interest on the short or long side with a confirming signal is very powerful for those that are actively trading. With so much noise during the trading day, how can anyone focus in on the names that show the best opportunity?
This is why we created a rather simple mechanism that is color-coded with the "trade-bias" highlighted. Simply put, a price under the key level of support shows a better opportunity for a trade on the short side. The RED coloring signifies a short confirmation and will continue until the Autopilot Indicator changes to ORANGE.
The chart below combines the TriggerCharts AutoPilot, Altimeter and Aileron Indicators.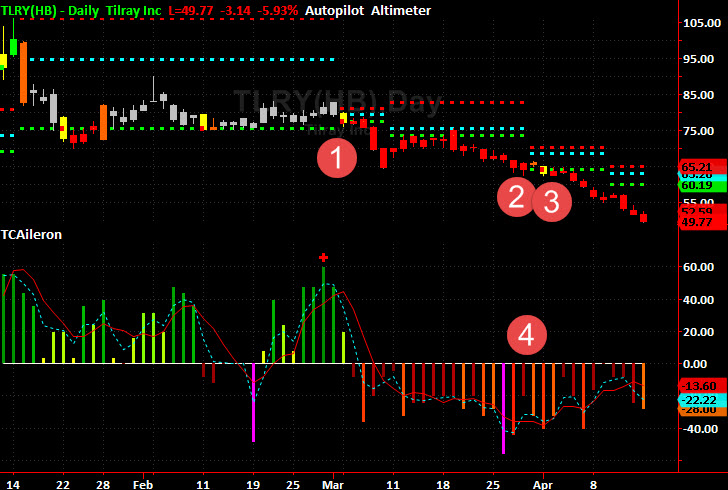 1) Initial Short ALERT! signified in YELLOW  ($70) – Followed by a RED SHORT confirmation.
2) ORANGE Exit/Cover indication at $66.25.
3) A new Short ALERT! at $64.50 and follow-up
4) Confirmation of downtrend from AILERON (below zero)
If you are looking for a boost to your trading profits and a tool that will assist in trading decisions – check out the Commander Series Suite of Indicators.