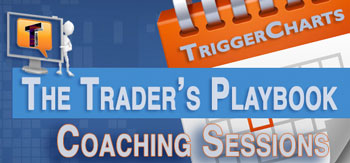 The Trader's Playbook – Advanced Coaching Series
Traders and investors of forex, futures and equity securities have agreed that the Commander Series Indicators from TriggerCharts are some of the best technical analysis tools in the business.  An overwhelming amount of trials and subscriptions have poured in from the TradeStation TradingApp Store  where many of the TriggerCharts products are listed as the Most Popular!
In order to further support these indicators, TriggerCharts has brought on board Chartered Market Technician (CMT), Corey Rosenbloom from AfraidToTrade.com to host The Trader's Playbook Webinar Series.  In this series, Mr. Rosenbloom's expertise will guide you toward greater profitability with The Commander Series from TriggerCharts.

Mr. Rosenbloom holds a bachelor's degree in both Psychology (cognitive research focus) and Political Science and later received a Master's Degree in Public Affairs with a Business concentration.  He has completed Levels I, II, and III earning the designation of the Market Technician's Association's Chartered Market Technician (CMT)
Learn at your own pace.
Course Outline:
The Trader's Playbook – Coaching Session 1 of 3: Setting Yourself Up for Success and Market Profile
In this course you will learn:

Building on the lessons taught in the Trader's Playbook Series and:
In-Depth Discovery of Market Profile
Auction Market Theory
Identifying the 2 Separate Phases of the Market
Market Balance and Imbalance
Utilization of Multiple Time Frames
Range Expansion and Contraction
Simplyfying Market Profile with The Commander Series
The Trader's Playbook – Coaching Session 2 of 3: Developing a Profitable Trading Strategy with Radar & Altimeter
Building on the lessons taught in the Trader's Playbook Series and:
Revisiting Market Profile with an In-Depth Discovery of Components of The Commander Series
How Your Style of Trading Works with The Commander Series
What to Focus on with TriggerCharts Radar & Altimeter
Assessing and Establishing Risk / Reward Profiles with Radar & Altimeter
Identifying Fast Zones or Holes to Capture Profit Quickly
How to Trade with Multiple Time Frames
The Trader's Playbook – Coaching Session 3 of 3: Seeking Out High Probability Trades for Maximum Reward
Building on the lessons taught in the Trader's Playbook Series and:
Introducing AutoPilot to Your ToolKit
Combining Strategies, Time Frames and Indicators from the Commander Series for Multiple Confirmations
Utilizing Indicators to Skew Probability in Your Favor
Scanning Multiple Securities with TriggerCharts' RadarScreen
Sticking to The Trading Rules of The Commander Series Indicators
Rules Based Trading
Profit Targets & Stop Levels
Trade Management
Setting Up an Appropriate Workflow within Your TradeStation Workspace